Mold Remediation Services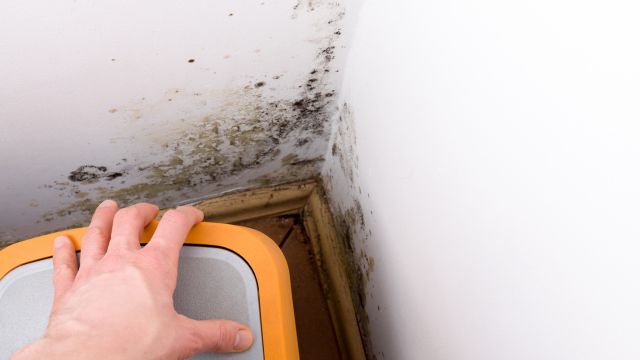 Mold spores are virtually omnipresent, existing in almost every environment. These microscopic particles can infiltrate your property through various means, such as open windows, ventilation systems, or even the clothes you wear. Mold spores are abundant, with an average room containing approximately 200-700 spores. While these spores are generally harmless at low concentrations, problems can arise when their numbers increase. Mold colonies present a more significant threat, as they can form in as little as 24-72 hours. These colonies latch onto organic materials and consume them, leading to the deterioration of the affected items. Mold colonies can rapidly spread, escalating a localized issue into a multi-room infestation that may compromise your property and health.
Given the rapid proliferation and spread of mold colonies, taking swift action is crucial for effective mold remediation. The United Water Restoration Group of Colorado Springs is equipped to address both minor and extensive mold outbreaks, offering professional assistance when you need it most. Our technicians are certified and experienced in mold remediation in Colorado Springs, providing a comprehensive range of services to restore your property to a safe and healthy state.
The mold remediation process in Colorado Springs begins with a thorough assessment of your property. This in-depth evaluation allows our technicians to gain a comprehensive understanding of your unique situation, identify the extent of the mold infestation, and devise an effective plan to address the problem. Our goal extends beyond merely removing mold from your property; we also focus on the removal, sanitization, cleaning, and addressing the underlying cause of the mold issue, ensuring long-term results.
As part of our mold remediation process in Colorado Springs, we take several measures to contain and control mold infestation. This includes isolating affected rooms to prevent cross-contamination and implementing advanced drying techniques to remove moisture from the area. Mold colonies thrive in moist environments; by eliminating moisture and filtering out spores, we can effectively curb the spread of the infestation. Our mold remediation services in Colorado Springs involve using industrial-strength fans, dehumidifiers, and containment measures during the initial steps of the process.
Once the affected areas have been thoroughly dried, our technicians proceed to address the mold issue head-on by removing mold colonies and cleaning and sanitizing impacted materials. This involves employing specialized equipment and techniques to ensure the safe and effective removal of mold while preserving the integrity of your property.
In the final stage of our mold remediation process, our technicians focus on neutralizing any lingering odors associated with mold and applying antimicrobial treatments to help prevent future outbreaks. These treatments create a barrier that inhibits mold growth, providing long-lasting protection for your property.
If you require mold remediation services in Colorado Springs, Colorado, look no further than the United Water Restoration Group. Our team of certified and experienced technicians is dedicated to helping you restore your property to a safe and healthy condition, offering comprehensive solutions and personalized support throughout the entire process. Don't let mold compromise your property and well-being; contact us today for professional mold remediation services in Colorado Springs.
– Mold & Mild Removal
– Mold Damaged Walls
– Black Mold Removal
– Basement Mold Removal
– Mold Removal From Ceilings
– Mold Inspections
– Crawl Space & Attic Mold
– Toxic Mold Removal
– Mold Restoration & Abatement
Jon's crew was outstanding! Their professionalism is unmatched in the Pikes Peak Area. They finished the cleanup of our flooded basement a day before schedule. Very pleased with the results!
Brendan Stutz
Jon is truly genuine and kind. He came out the same day and left me with peace of mind after a small incident involving a ruptured pipe. Incredible service, thank you!
Jacob Melton
They are fabulous. Very knowledgeable and helpful in so many areas. From dryer vent cleaning to painting, they don't just help with water clean up! They do it all from tear out to replacement. Love these guys.
Shari Carlson
Jon and his team at United Water did a great job for me. They were professional and got things done quickly. Kept a clean work site and kept us in the loop the whole time. Highly recommend!
Chad Glover
Locally Owned and Operated