Cleaning and Disinfection Services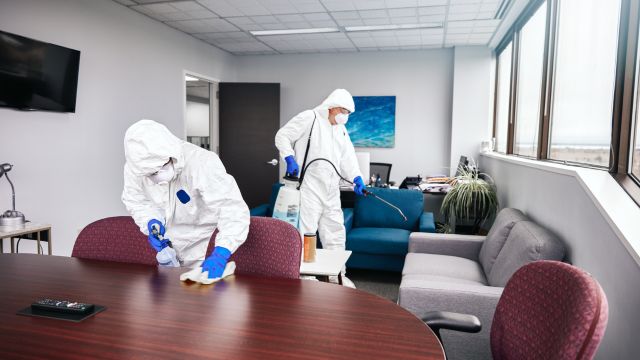 United Water Restoration Group of Colorado Springs takes immense pride in offering top-notch cleaning and disinfecting services for both commercial and residential properties. Our versatile services cater to a range of scenarios, such as post-event cleanup, increased foot traffic, or preparation for and clean up after social gatherings at home. Our primary objective is to ensure a clean, safe, and well-protected environment for properties located in Colorado Springs, Colorado, by eliminating irritants, common allergens, and harmful pathogens that might be lurking around.
Pathogens like the flu virus can easily spread across high-touch surfaces, including doorknobs, chairs, countertops, and tables. These surfaces are frequently touched but often neglected when it comes to cleaning, making them ideal breeding grounds for various pathogens. Our specialized services provide an extra layer of protection for all those who rely on your property for their well-being.
Our highly skilled and dedicated technicians work tirelessly to transform your property into a safer, healthier space. Our all-inclusive cleaning and disinfecting services encompass every nook and cranny of your property, strictly adhering to OHSA, CDC, and EPA guidelines and utilizing only EPA-approved products in the process.
Throughout the cleaning and disinfecting process, we meticulously deep clean your property, employing specialized equipment to reach even the most difficult-to-access areas. Our expert services help safeguard against pathogens and other irritants that may accumulate over time, ensuring a clean environment year-round.
We understand the importance of convenience, which is why we offer flexible scheduling options to secure the most suitable appointment for you, whether it's for your business or home. Our advanced deep cleaning techniques also aid in removing dander, dust, and other pollutants from your property. Place your trust in the United Water Restoration Group of Colorado Springs to deliver a pristine and secure environment for your property in Colorado Springs, Colorado.
Jon's crew was outstanding! Their professionalism is unmatched in the Pikes Peak Area. They finished the cleanup of our flooded basement a day before schedule. Very pleased with the results!
Brendan Stutz
Jon is truly genuine and kind. He came out the same day and left me with peace of mind after a small incident involving a ruptured pipe. Incredible service, thank you!
Jacob Melton
They are fabulous. Very knowledgeable and helpful in so many areas. From dryer vent cleaning to painting, they don't just help with water clean up! They do it all from tear out to replacement. Love these guys.
Shari Carlson
Jon and his team at United Water did a great job for me. They were professional and got things done quickly. Kept a clean work site and kept us in the loop the whole time. Highly recommend!
Chad Glover
Locally Owned and Operated